Best Clan Names For Battlegrounds Mobile India ( BGMI )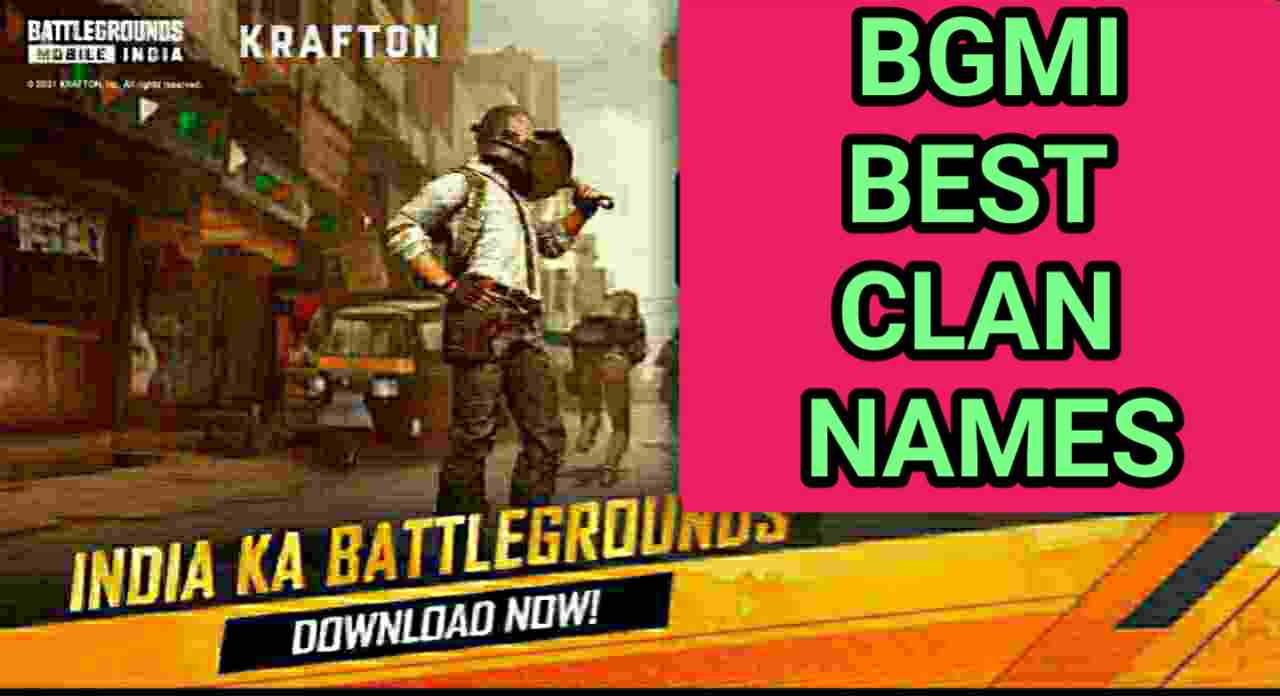 BGMI users are increasing day by day, all want to start a new journey with new clans new members, clan can be defined as a family, BGMI offers to create new clans, there is also a benifit of having a clan, you can earn amazing rewards through clan shop, just you have to do is clan missions for which you will get clan points, so in this post we are going to give you best clan names for BGMI, so here we go.
Best Clan Names For BGMI
1.𝔾𝕠𝕕 𝕆ℙ. 
5.⚔️⚔️𝕯𝖆𝖓𝖌𝖊𝖗⚔️⚔️
8.Inͦsⷬane killers. 
9.▄︻̷̿┻̿═━一Big bulls ◉●•◦. 
10.𝕿𝖊𝖆𝖒 𝕿𝖆𝖗𝖌𝖊𝖙⦖. 
11.𝕿𝖊𝖆𝖒 𝖍𝖔𝖓𝖔𝖗𝖊𝖉. 
12.𝖙𝖊𝖆𝖒 𝖒𝖊𝖌𝖆° ๛. 
13.𝚝𝚎𝚊𝚖 𝚠𝚊𝚛𝚛𝚒𝚘𝚛𝚜 ▄︻┻═┳一. 
14.𝕥𝕠𝕣𝕟𝕒𝕕𝕠 𝕓𝕣𝕚𝕟𝕘𝕖𝕣𝕤៚. 
15.𝚃𝚎𝚊𝚖 𝚝𝚛𝚘𝚓𝚊𝚗𝚜⚕
16.𝚃𝚎𝚊𝚖 𝖙𝖎𝖙𝖆𝖓𝖎𝖚𝖒₪.  
18.𝕿𝖊𝖆𝖒 𝕲𝖎𝖉𝖔𝖗𝖆𝖍✠. 
19.𝕭𝖑𝖔𝖔𝖉𝖇𝖆𝖙𝖍 𝕬𝖗𝖈𝖍𝖎𝖙𝖊𝖈𝖙𝖘♜. 
20.𝕋𝕖𝕒𝕞 𝕣𝕠𝕥 ✤. 
21.𝖙𝖊𝖆𝖒 𝖘𝖙𝖊𝖊𝖑 ⦖. 
22.𝖙𝖊𝖆𝖒 𝖍𝖆𝖘𝖍𝖎𝖗𝖆 ン. 
23.𝕷𝖊𝖆𝖌𝖚𝖊 𝖔𝖋 𝖑𝖊𝖌𝖊𝖓𝖉𝖘 ⁂. 
24.𝚝𝚎𝚊𝚖 𝚟𝚒𝚕𝚕𝚊𝚒𝚗𝚜 ラ. 
25.𝖙𝖊𝖆𝖒 𝖚𝖓𝖘𝖙𝖔𝖕𝖕𝖆𝖇𝖑𝖊 豈. 
26.𝕥𝕖𝕒𝕞 𝕥𝕖𝕣𝕞𝕚𝕟𝕒𝕥𝕠𝕣 𒆜 ༻. 
27.𝖙𝖊𝖆𝖒 𝖆𝖘𝖘𝖆𝖘𝖘𝖎𝖓 랜. 
30.Devil boys ▇▬▬▇. 
31.𝕷𝖊𝖆𝖌𝖚𝖊 𝖔𝖋 𝖉𝖊𝖆𝖙𝖍⊰. 
33.𝕿𝖊𝖆𝖒 𝖔𝖕══█❚. 
34.𝖙𝖊𝖆𝖒 𝖇𝖑𝖔𝖔𝖉𝖇𝖆𝖙𝖍 ⦖. 
35.𝕥𝕖𝕒𝕞 𝕔𝕣𝕖𝕒𝕥𝕠𝕣 ᬁ. 
36.ͲᎬᎪᎷ ᎪᏟᎬ﴿. 
37.𝕾𝖐𝖞𝕷𝖔𝖗𝖉𝖘ᚘ.
38.◤𝚝𝚎𝚊𝚖 𝚒𝚗𝚗𝚘𝚌𝚎𝚗𝚝 ◢. 
39.◤𝚝𝚎𝚊𝚖 𝖉𝖎𝖆𝖒𝖔𝖓𝖉𝖘◢. 
40.𝕿𝖊𝖆𝖒 𝖑𝖊𝖌𝖊𝖓𝖉𝖘៚. 
41.𝖙𝖊𝖆𝖒 𝖋𝖆𝖙𝖆𝖑៚. 
42.𝖙𝖊𝖆𝖒 𝖋𝖑𝖊𝖝⦖. 
43.𝖈𝖗𝖆𝖟𝖞 𝖐𝖎𝖑𝖑𝖊𝖗𝖘 ﹃. 
44.𝕿𝖍𝖊 𝕭𝖎𝖌 𝕰𝖌𝖔𝖘⦖. 
45.𝕺𝖕𝖙𝖎𝖒𝖎𝖘𝖙𝖎𝖈 𝕲𝖊𝖊𝖐𝖘▄︻̷̿┻̿═━一. 
46.𝕰𝖓𝖉𝖟𝖔𝖓𝖊 𝕸𝖆𝖙𝖙𝖊𝖗ཌ. 
47.◤𝕭𝖊𝖎𝖌𝖊 𝕺𝖛𝖊𝖗𝖐𝖎𝖑𝖑◢. 
48.𝕾𝖔𝖓𝖎𝖈 𝕭𝖔𝖓𝖊 𝕸𝖆𝖘𝖍𒆜 ༻. 
49.𝕿𝖎𝖌𝖊𝖗 𝕮𝖔𝖒𝖒𝖆𝖓𝖉𝖔𝖘웃. 
50.⦕𝖙𝖊𝖆𝖒 𝖉𝖊𝖒𝖔𝖓𝖘 ⦖. 
How to change clan name in BGMI?
Changing clan name in BGMI is very easy, if you are a new clan creator then you nothing have to do, just go on your profile area then click on clan icon in left bottom, then you can simply put any name you like.
For those who have already a clan and wanted to change its name, it is also easy first you have to purchase a clan Rename card from the shop, remember only the clan leader can purchase the clan rename card, clan rename card costs 300 clan points, after purchasing clan rename card simply put any name you like for your clan.
---
That's it, make sure to share your most valuable thoughts about these clan names list in comment box below, thank you.