ICC World Cup 2027: Host, Format, Schedule, Teams, Stadiums & Qualifiers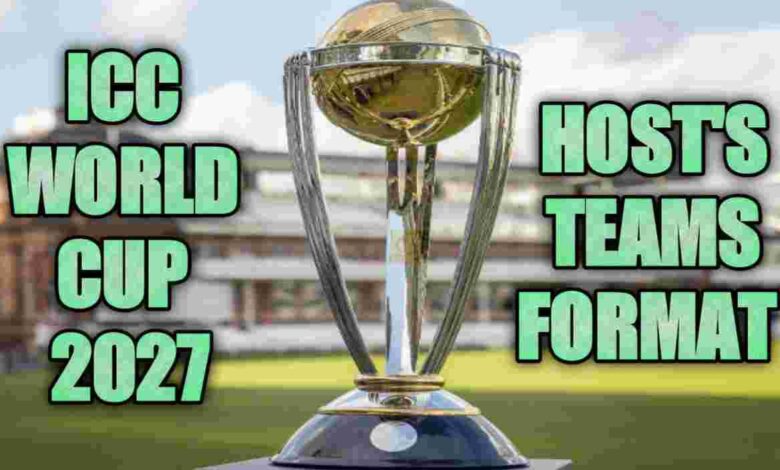 ODI World cup is the 3rd most sporting event around the world, in this post we are going to give you every detail about the ICC Men's Cricket world cup 2027 which will be hosted in South Africa, Zimbabwe and Namibia.
this is the 2nd time in the history when a ODI men's world cup has been allotted to Africa continent, last time South Africa & Zimbabwe was the hosts for ICC ODI World Cup in 2003.
World Cup 2027 will be the first to include 14 teams since 2015 world cup, previous two tournaments was played round robin format with 10 teams.
World Cup 2027 Format
| | |
| --- | --- |
| No. Of Teams | 14 |
| No. Of Matches | 54 matches |
| No. OF Rounds | 4 |
| Knockout Rounds | Semifinal & Final |
2 Groups of 7 Teams
Top 3 Teams will Advance to the super six round.
Each team will play 3 matches in super six.
teams will avoid to face same group teams of round one but carrying there match result ( win: 4 points tie: 1 point ) and 1 point for win against non qualified teams to super six round
Top 4 teams from super six round will move to the semifinals.
1st place team will play against 4th place team and 2nd place team face 3rd place team of super six round.
---
World Cup 2027 Schedule
According to ICC future tour program ( FTP ), most likely this tournament will be played in February and march month of 2027 year.
---
Qualifiers
Top 8 teams from the ICC ODI ranking till mid 2026 will directly entered in ICC World Cup 2027.
South Africa, Zimbabwe & Namibia get direct slot as a host nation.
Almost Confirmed Teams For 2027 ODI World Cup
South Africa ( Host )
Namibia ( Host )
Zimbabwe ( Host )
India
Australia
England
Newzealand
Srilanka
Pakistan
Bangladesh
West Indies
Teams like Afghanistan, Ireland, Netherlands, USA, Scotland are the top contenders for 3 remaining spots.
---
Stadiums & Cities List To Host ICC Men's ODI World Cup 2027
1. The Wanderers Stadium ( Johannesburg )
Seating Capacity: 28000
Pitch: Green
climate: subtropical
2. Newlands ( Cape Town )
Seating Capacity: 25000
Pitch: Dry ( Spin Friendly )
climate: Mediterranean
3. Harare Sports Club ( Harare )
Seating Capacity: 10000
Pitch: Dry ( Spin Friendly )
climate: subtropical
Note: More stadiums & cities will be added soon.
---