Chicken Master: How To Get Chicken Expert Title In BGMI Quickly In 2022
Hey battlegrounds mobile India lovers welcome to adixesports, as we know there are so many mission to achieve in game and we can get title's as s rewards, chicken expert title is one of the most prestigious title to show friends & teammates in the battle Royale game.
in this post we are going to tell you that how you can easily get chicken expert title very quickly in bgmi and become a chicken master in the battlefield, so here we go.
---
Ways To Achieve Chicken Expert Title
Here is the following missions you have to complete to obtain chicken expert/master title.
Important*
all missions shall be completed in solo classic match.
your tier must be platinum or up while completing the missions.
Here is the all 10 weapons list that you have to use to kill the last enemy in the solo classic match.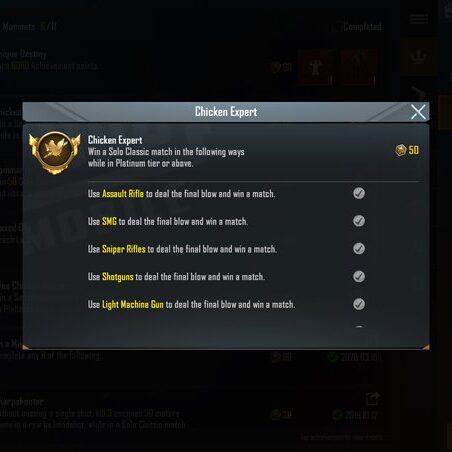 SMG
LMG
Assault Rifle
Sniper Rifle
Shotgun
Throwable
Melee
Vehicle
Crossbow
Pistol
---
How To Complete Chicken Expert Mission & Get the title?
kill the last enemy with the SMG, LMG, assault rifle, sniper rifle & shotgun is relatively easy, but now we will guide you complete remaining missions, which is tough.
Throwable: pick as much as throwable you can carry, now get the exact location of the enemy & then just throw it one by one without stoping.
Melee & Crossbow: try to get close to enemy without knowing him, and then attack from the back.
Vehicle: you should use BRDM to complete the vehicle mission, because BRDM is the safest vehicle available in the BGMI battle royale.
Pistol: damage enemy using the other powerful guns & then just use pistol to hit the final blow.
Bonus Tip: You can also Team up with your friends by matchmaking at the same time, survive till the end and then just kill your friend with these weapon that available above.
---
That's it about how you can easily obtain chicken master or chicken expert title in battlegrounds mobile India ( BGMI ), if you have any other doubt regarding this post then share with us on [email protected]